With the development of the economy, pavement markings are no longer just used for motor lanes. In order to increase the beauty of the city, more and more sights, park roads, runways, cycling lanes, and community greenery are painted with colored pavements. Such a large road surface needs to be marked with color. In order to make the pavement marking uniform and thickness consistent, and increase construction efficiency, professional line striper machine has played an important role.
Rays Traffic W-CPS cold spray line striper machine has the best marking width of 5-30cm. It is generally used for striping parking lots, pavement edge lines, kerb marking, various basketball courts, plastic runways and other sports venues. If you need to spray arrows, numbers, graphics, road color changes, etc., you can hand-held spray gun to spray. South American customer have ten years of pavement marking experience. After communication, they feel that this W-CPS line striper machine is portable, easy to use, stable pressure, beautiful line shape, and suitable for some simple pavement marking projects.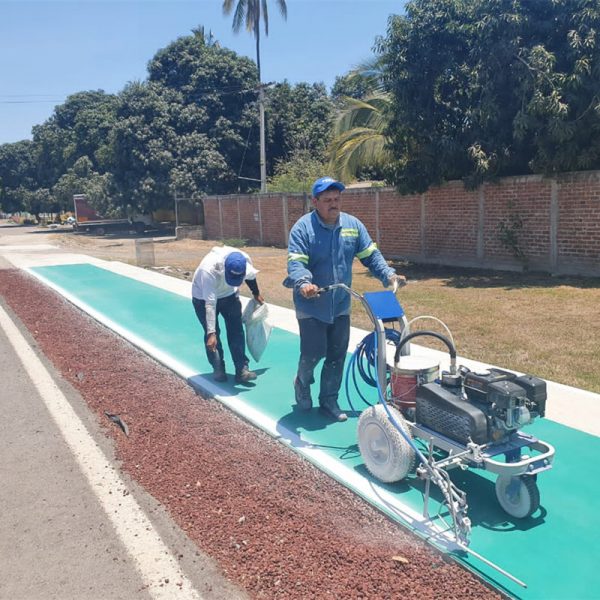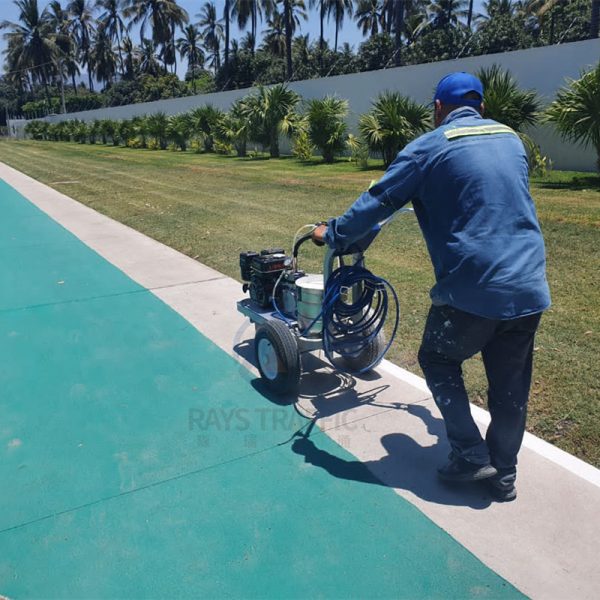 After a month of shipping, South American customer received our pavement marking machine. This machine is very simple to operate, and women without any mechanical experience can use it in 15 minutes. After carefully reviewing the operation manual and video, the customer first tried to operate the machine with water. After several consecutive operations, they can already use this cold spray line striper machine proficiently. The above picture is the construction picture sent by the customer. First, spray the background color of the cycline lane in blue. Then use our cold paint line striping machine spray the white 15cm edge lines. Finally put the arrow and bicycle road marking stencils on the blue ground, and spray the desired pattern with a hand-held spray gun. After the paint dries, they get the following colored cycling lane. Customer is very satisfied with our single-gun cold spray line striper machine.