Thermoplastic Paint Road Marking is different from cold paint road marking, its thickness can be 1.6-1.8mm, and some even reach 2.5mm. As thermoplastic paint is mixed with glass beads, and during road marking construction, we will spray 500g glass beads on road line sureface. So thermoplastic paint lines can last at least 2 years without falling off, and can reflectIve at night.
Thermoplastic paint road marking are often applied in highways, city roads, streets, zebra crossing, etc. With more and more cars in residential areas, many parking lots, fire exits, and sports courts in residential areas need mark lines.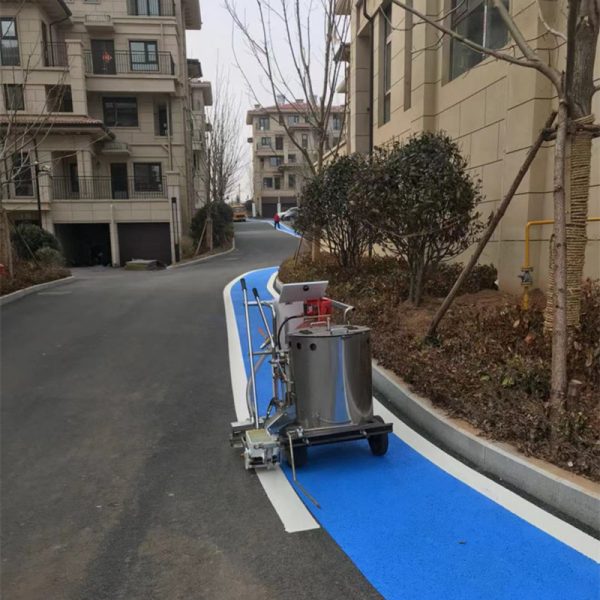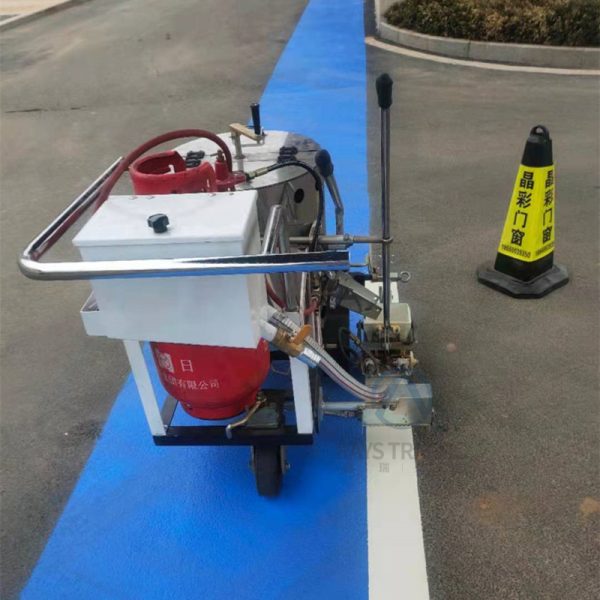 The customer in Shandong didn't do thermoplastic paint road marking before. We introduced the W-TPM hand-push thermoplastic applicator. This machine is light, flexible and cost-effective. It is the commen equipment for thermoplastic paint road marking. He also bought a set hydraulic double-cylinder hot melt kettle to heat coating first. Why choose dual-cylinder? Because many projects needs to mark color road marking lines, two cylinders can melt two colors of paint at the same time.
The pictures and videos are of Shandong customer applied thermoplastic paint road markings in residential areas. The light road marking machine makes it easy to operate. And the hopper is made of special material, which makes the marking line thickness uniform, beautiful line shape, and neat edges. Workers firstly sprayed the blue cold paint channel, and then uses hand push hot melt road marking machine to mark the white borders on both sides. This combination of colors makes the plot lines beautiful during the day and good reflections at night.